This article is an edited chapter on the major historical events and contemporary characteristics of the Hmong American community, excerpted from The New Face of Asian Pacific America: Numbers, Diversity, and Change in the 21st Century, edited by Eric Lai and Dennis Arguelles in conjunction with AsianWeek Magazine and published by the UCLA Asian American Studies Center.
A Population Without a Nation
The Hmong people are an ethnic group whose origins go back about 3,000 years in China. Most Hmong -- about eight million -- still live in southwestern China. Another four million live in the Southeast Asian countries of Thailand, Burma, Laos and Vietnam, where they immigrated during the 19th century following centuries of persecution in China. There, they existed mostly as farmers living in rural areas.
The first Hmong migration of notable size to the United States began with the fall of Saigon and Laos to Communist forces in 1975. Many Hmong had worked with pro-American anti-Communist forces during the conflicts in Vietnam and Laos. As a result, they were subject to violence and retribution in Laos. Many Hmong escaped Laos to Thailand where they were incarcerated in refugee camps.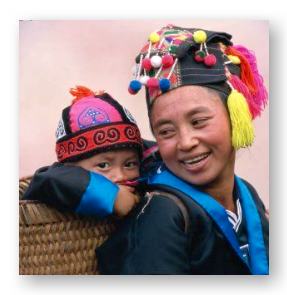 From 1981 to 1986, the number of Hmong refugees slowed to a few thousand each year, but admissions picked up again between 1987 and 1994, when about 56,000 Hmong refugees were accepted. After 1994, Hmong refugee admissions slowed to a trickle as most of the Thai camps were by now empty, with the remaining Hmong repatriated to Laos. Also, Hmong immigration based on family reunification remains low, especially compared to other Southeast Asian ethnic groups.
With the first wave that arrived in the late 1970s and early 1980s, voluntary resettlement agencies purposely tried to disperse the Hmong around the country, such as Providence (RI), Philadelphia, Chicago, Des Moines, Iowa, Kansas City (KS), Denver, Missoula (MT), Tulsa, and Salt Lake City. This strategy, however, proved unsuccessful as many Hmong were settled in a poor, predominantly African American neighborhoods where they encountered much hostility and violence.
Also, many Hmong wished to be reunited with family and clan members. These reasons led to a massive shift of the Hmong population in the mid-to- late 1980s to central California cities like Fresno, Stockton, and Merced, and to a lesser extent, to Minnesota and Wisconsin. The 2000 Census counted 186,310 Hmong Americans across the U.S. (single race or part-Hmong), representing a nearly 90 percent increase in the population from 1990. Many agree, however, that the figure is probably a significant undercount.
Building a New Home
During the 1990s, the Hmong moved again: away from the West and towards the Midwest and the South. This shift was epitomized by the emergence of Minneapolis and St. Paul as the unofficial capitals of Hmong America, taking over from Fresno. About half of Hmong today live in the Midwest, mostly in Minnesota, Wisconsin and Michigan, compared to 41 percent in 1990. Meanwhile, the proportion of Hmong in the Western states fell to 42 percent in 2000 from 55 percent in 1990. Around 6 percent of the Hmong now live in the South (with most in North and South Carolina), an impressive increase from just 1.3 percent in 1990. In 2000, the Hmong population numbered in the Northeastern states remained very small, at just 2 percent.
Why did Minneapolis-St. Paul emerge as the new Hmong American capital? The opportunity to make a better life seems to be at the heart of things. "The cost of living is cheaper here than in California," Lee Pao Xiong, president of the Urban Coalition in St. Paul, told the Associated Press. "The quality of education is better here, and jobs are available here." Xiong said he's recruited 10 families from his own extended family to come here from California in recent years. "They came here and they found jobs within a month or two and are making ten, eleven, twelve dollars an hour," he said.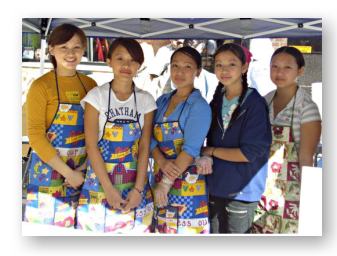 A 2002 community directory provides listings of 13 Hmong community organizations and 39 Hmong religious congregations in the Minneapolis-St. Paul area. Whereas many Hmong in California's Central Valley have taken up their old occupations of farming, those in Minneapolis have found jobs working in factories. But there is a substantial emerging class of Hmong small business owners -- many of them congregated near St. Paul's University Avenue -- and college-educated Hmong professionals going into fields like law, medicine, and non-profit management. And the United States' first Hmong politician, a 32-year-old female lawyer named Mee Moua, was elected to the Minnesota State Senate in 2002.
The Hmong came to America less-prepared for the modern capitalistic society of their new home than most other immigrant groups. Most had been farmers in their native country, and did not graduate from high school or the equivalent. As a result, many Hmong families when they first arrived were forced to go on public assistance. Data from the 2000 Census shows considerable upward socioeconomic movement, as many Hmong settled into stable or more lucrative jobs.
Looking to the Future
Traditionally, the Hmong favor large families with many children. Some of this can be explained by the Hmong's traditional farming roots. As a result, Hmong households average more than six persons per house or apartment in Minnesota and Wisconsin, compared to about 2.5 persons among the entire population. This helps explain the huge Hmong American population growth between 1990 and 2000, despite the decline in refugee admissions after 1994. These demographic trends suggest the Hmong population will continue to be among the fastest growing Asian group in the United States in the coming decades.
The Hmong are a fairly tight-knit group; many community leaders are old clan leaders or politicians from Laos and are their descendents and relatives. For instance, the Hmong general Vang Pao, who commanded the Hmong forces fighting against the Communist North Vietnamese, remains a political leader for many Hmong in America.
Still, there is a new generation of Hmong leaders emerging. They are young, well-educated, and not necessarily willing to be as beholden to old loyalties based on clan affiliation. Cleaved along this generational divide, the younger leaders support the reform of some aspects of Hmong culture that may clash with American customs. For instance, Hmong womens' groups have campaigned against polygamy, domestic violence, and teenage brides -- not common but not unheard of among more traditional Hmong.
Other leaders are trying to tackle the increasing number of Hmong youth being lured into gangs. Others are trying to encourage Hmong entrepreneurship, a traditional route to the middle-class for immigrants but one less common with the Hmong. Vang Pao, for instance, has established a program with St. Thomas University in St. Paul to provide technical assistance to Hmong small businesspeople. While Hmong Americans certainly face a number of challenges, they are moving forward into a brighter future.